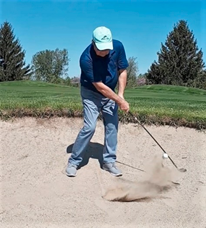 Golf is more enjoyable when you play well… and our group lessons instill the important swing fundamentals you desire for improved driving off the tee, iron play, pitching, chipping, and putting.
Even in a group setting each student receives personal coaching. Plus clubs are provided at no additional cost, if required.
So what are you waiting for… check out the popular group and individual programs below for 2022, available at our practice facility and presented by Angelo Puma, PGA of Canada Class A Professional.    
Click on the links for full details about the programs, schedules, and registration.
ADULT BEGINNER / INTERMEDIATE – Designed for new golfers and players with some golf experience who want to improve their play. Five week program.
GOLF FOR ACTIVE 55 + – A great program for seniors to learn the game as well as those with golf experience who want to improve in a fun learning environment. Five week program.
GOLF FOR KIDS LEARN & PLAY – A unique program for kids 7 and older that combines learning all the important swing fundamentals with playing on the golf course. Four week program.
PRIVATE LESSONS or MAKE YOUR OWN GROUP – Taking private lessons is the fastest way to both learn the game and to improve a specific area you want to focus on. You will receive a wide range of coaching, with dates and times flexible to fit your schedule. We can also tailor a custom program for your own group or family.
***Note: While group programs typically begin early in the season we may still be able to accommodate ad hoc start dates later in the season. Please contact Angelo@pumagolf.ca or call Puma Golf at (416) 319-0196 to review.
Angelo Puma, PGA of Canada Class A Professional
• Angelo attended the San Diego Golf Academy, the foremost school in the world for the training of golf professionals.
• Class "A" member of the PGA of Canada. Completed all TCCP teaching programs.
• Swing Link certified fitness training program for the golf swing.
• Over 25 years teaching experience of players of all levels
• Designed a variety of golf education programs: Golf for Women, Advanced Golf Techniques, Golf for Seniors, Short Game Skills.
• Teacher of many golf swing styles tailored to the individual. Expertise in teaching the "One Plane Swing". It is the most effective and repeatable technique used by the majority of tour professionals. Attended seminar by Jim Hardy (top 10 teacher in the PGA of America) author of the "One Plane Swing"
• Experience teaching players with physical challenges.
• San Diego Golf Academy golf club fitting, design, alteration and repair.
• Former golf instructor for Humber College, Town of Halton Hills, and General Manager Family Golf Learning Centre.
• President Puma Golf products.